9 Jun 2020
Posted by Mikaela
This post may contain affiliate links. If you go through them and make a purchase, I may earn a penny. Don't worry, it won't cost you any extra, but will surely light up our travel journey!
This is a comprehensive Seoul itinerary and travel guide. It includes a pre-departure guide, places to visit, and a summary of expenses and itinerary.
South Korea has made its name famous for history and technology all over the world—no doubt many people love this country for their rich culture, technological advancements, and creative pursuits such as the mukbang, Dalgona coffee, and the entertainment industry. But the admiration doesn't stop there as many people dream of an authentic Korean experience.
Visiting this country was the most spontaneous, yet life-changing decision I made! I had a spectacular travel experience, thanks to the awesome city of Seoul. As I write this travel guide and itinerary, I remembered the days when I used to go nuts about this country.
Pre-teen years is the time of self-discovery, emotional rollercoaster, and expression of interests. In my case, it was listening to Kpop songs, watching K-dramas on local television, memorizing lyrics, and singing the songs–as if I can relate to it (ack, flashbacks!).
Although this phase didn't last long, it's funny to think that ten-year-old Mikaela would be so happy that this country was my first international travel experience.
If you're reading this post, it might be because of the Hallyu or Korean wave. Their domination has been overwhelming—in the most pleasant way.
I know you're excited about this travel guide, so let's jump right to it!
---
Seoul, South Korea
Seoul is the capital of South Korea or Hanguk (as the locals refer to their motherland). It is in the southern part of East Asia with its neighboring country: Japan and China. Historically, the city was used as a strategic center point of several ruling kingdoms such as Baekje, Joseon, and now the present Republic.
Now, it's widely known for different reasons like culture, urban architecture, technology, artistic attractions, and food.
Besides,  it's comprise vast mountains and hills that flaunts alongside the skyscrapers of Seoul today. This wondrous view has left satisfaction among its people and foreign visitors.  There's also the Han river — which separates Seoul into two major areas: Gangbuk and Gangnam.  
Gangbuk and Gangnam
To better appreciate the city, one must understand the difference between the two main areas. Gangbuk houses the five palaces and mainly historical sites in Seoul (Gwanghamun Gate as its border). The northern part is the old city because of its traditional state that many people visit for a cultural and historical experience.
On the other side, the southern part is Gangnam or the new city. The first thing I can associate with this is the Gangnam Style of PSY. The song is a good example of how the two main areas differ from each other. The flashy, complex, and edgy style of Gangnam is evident to its people, shopping malls, high-rise buildings, and other modern structures.
Both Gangbuk and Gangnam showcase distinct classes of pride: one is the pride of culture, history, and tradition, while the other is prominence, sophistication, and innovation. With the two areas, you can observe strong traditions, yet modernity and a mix of nature in an urban city. The perfect balance between old and new that brings out the charm of Seoul.
---
Pre-Departure Guide
The following are important to settle and be familiar with for convenience and pleasant flow of your Seoul itinerary.
Plane Tickets
Online booking is very easy because of the availability of mobile apps and websites. If you're from the Philippines, Philippine Airlines, Cebu Pacific, and Air Asia are your top choices. Another option is to contact a travel agency or visit their local offices.
If you're not a Philippine passport holder, you may skip the next part (Visa processing).
Visa
Philippine passport holders must apply for a Korea visa. New travelers become discouraged about this part, but there's a high possibility you'll get it if you comply with the requirements.
The Korean Embassy has implemented an online application (you can download the form here) and the processing of visa through travel agencies. Meaning, you need not to do it manually except if you're:
Spouse or a child of a Korean National
Government employee traveling for a business trip
A person with immediate humanitarian reasons
Someone with visa issuance number from Korea
Note: No one can guarantee your visa grant (travel agencies are limited to processing only). The proper mindset is to comply and increase your chances of getting it.
Travel agencies have different processing fees ranging from ₱500 up to ₱1,500. You'll pay more if you opt to stay longer (60-90 days).
I went to Travel Pros Inc., a travel agency in Mandaluyong, Philippines. I recommend their services because of their excellent customer support and fast transactions (convenient and hassle-free). As a first-timer, I had a pleasant experience with them.
Regular processing days – ₱700
Express visa processing – additional ₱1,000
The set of requirements vary per case (employee, student, married to a Korean national, etc.) I was a university student when I applied and here are the documents I provided.
Passport (at least 6 months of validity)
Printed application form
Passport-size photo
Photocopy of your passport
School Certificate (for students)
Copy of birth certificate
School ID
Parents' documents
 Click this link for the complete list of the requirements based on your situation.
---
Online Ticketing
Klook
If you haven't heard about Klook, you're missing out on great discounts. They provide top activities, day trips, tours, and other services at a discounted price. As a low-maintenance traveler, I recommend using it, especially for convenience. Many travel bloggers recommend it also for the same reason.
We used Klook for the following activities and attractions in Seoul. You can click the links to get great deals and discounts for your next visit in Seoul.
Note: Activate your Discover Seoul Pass on Wednesday onwards (preferably) because many attractions are closed on Mondays and Tuesdays. Don't forget to cross-check the schedules with their official websites.
Discover Seoul Pass
The Discover Seoul Pass will allow you to visit many landmarks. They offer 105 attractions and activities (they increased it from 63 to 105 last October 2019) that you can choose from based on your liking. It's easy to use, plus you can use it as a T-money (you will save 3,000 won) and have a free AREX one single-journey train ride from Incheon airport to Seoul. Another part of its feature is discounts and benefits for activities and destinations from participating parties.
Transportation
AREX one single journey train ride from Incheon Airport to Seoul, Seoul Bike (one day, one bike), Seoul City Tour Bus, and Yellow Balloon Tour Bus.
Free Admissions
N Seoul Tower Observatory, Sodaemun Prison and History Hall, MBC World, 63 Building, Trickeye Museum, COEX Aquarium, SMTOWN Museum, Lotte World, and more!
Activities
Runningman Thematic Experience, Namsan Tower Hanbok Experience, Skylift (Seoul Grand Park), some cooking class, and more!
---
Sim Card and Internet Access
Whether you're traveling solo or with companions, it's important to have internet access. Gaining an international sim card will allow you to message, call, and stay online in a foreign country. You can avail of this inside the airport or buy it before.
To avoid mishaps, contact your local mobile carrier regarding the international sim card. This happened to me when I ASSUMED that my phone is eligible for such use. Luckily, my friend brought an extra mobile phone to use.
Another thing, Seoul has public WiFi. It's always available and fast! Just in case you have consumed your data caps, you can still access the internet in public places.
Renting WiFi devices is also an option, although I find it inconvenient and stressful since you are responsible for damages and in case it got lost.
---
Money
The currency in South Korea is Korean Won (₩). It's recommended to exchange your money before going to South Korea.
Tip: Exchange only a portion of your money on the airport and exchange the rest in Myeongdong (best place for money exchange).
---
Learn Basic Hangul
You can learn basic Hangul (Korean language) before your visit. It's easy and will become handy during your trip. With this, you'll also get to see the beautiful smiles of the locals once you interact with them. For our trip, whenever we greet them in Hangul, they gave us a warm smile and starts a conversation (in English).
These phrases will be helpful:
| | |
| --- | --- |
| Hello/ Goodbye | anyeong-ha-se-yo |
| Nice to meet you | ban-gap-sum-ni-da |
| Thank you | kam-sa-ham-ni-da |
| This one | i-geo |
| Where is the __? | o-di-ye-yo |
| How much is it? | ul-ma-ye-yo |
| Yes | ne/ye |
| No | a-ni-yo |
| It's okay | gwaen-chan-ah-yo |
| Please | ju-se-yo |
| Help | do-oah-ju-seh-yo |
| Please sell a lot | mane-e-pa-se-yo |
---
Where to Stay
There are five famous neighborhoods to choose from in deciding where to stay. It's best to consider your travel preferences first, then settle on a location.
Myeongdong–for shoppers, foodies, and those who want to stay in the center of Seoul. There are many hotels that you can stay in.
Jongno–for culture and history junkies; old souls. Hanok guesthouses are available. This location is perfect if you'll only spend a few days and wish to visit famous landmarks on foot. You can read more about the Jongno District on the following links below.
Hongdae–for those who love nightlife and parties; mostly famous among young adults. Guesthouses, dorms, and Airbnb are available here.
Gangnam–for tourists and business trip attendees. Known for its high-rise buildings, parties, malls, and luxurious lifestyle.
Itaewon–for global trotters, Westerners, or those who want to stay in a multi-cultural environment.
READ MORE: WHERE TO STAY IN SEOUL? 5 BEST NEIGHBORHOODS FOR FIRST-TIME VISITORS
We stayed in an Airbnb in Hongdae—perfect for students and young adults. We made the best decision as we walk the streets past midnight and everything is still open! A true neighborhood that never sleeps!
---
How long should you stay in Seoul?
Your trip duration will depend on your travel concept. You can visit the top attractions in Seoul within three days of stay, but four to seven days is ideal if you're looking for an in-depth experience. The city is alluring; every day we find extra activities to add in our itinerary; the main reason we swore to go back soon.
2-3 days: top attractions & shopping districts
4-7 days: day trips, shopping districts, hiking, cultural exploration and lots of time for neighborhood discovery
7 days or more: includes living experience and a visit to other provinces
---
Transportation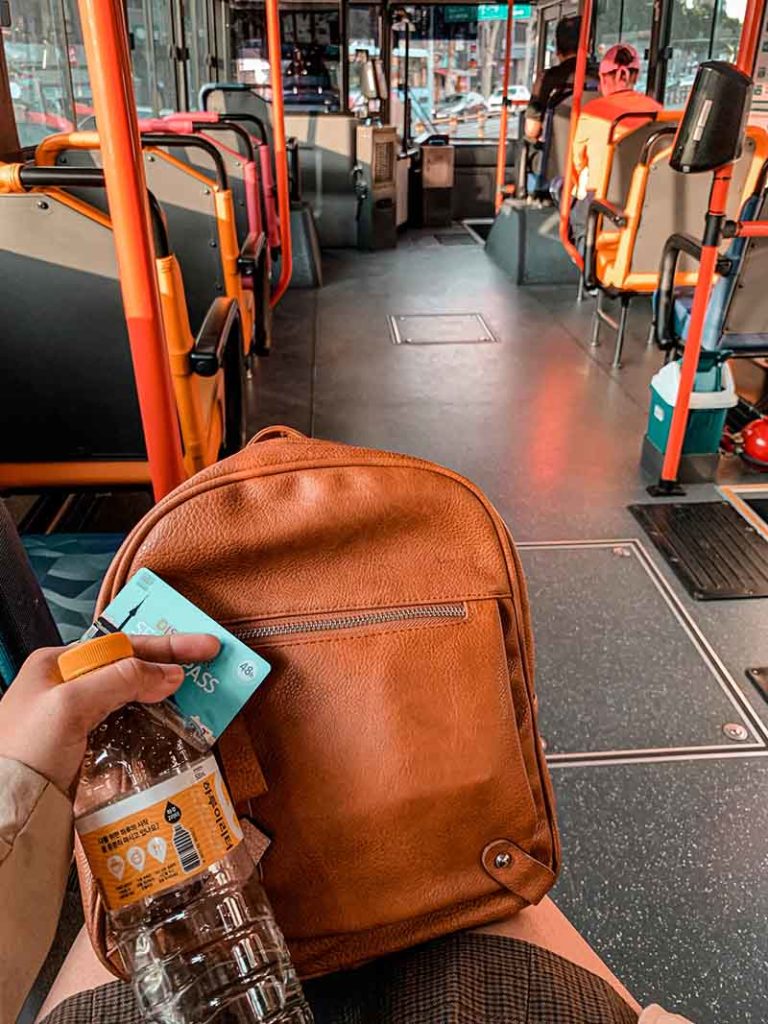 Seoul's notable feature is its advanced transportation system. The metropolis is very accessible to any transportation methods like subways, bus stations, taxis, or walking!
You need a T-money card to pay for the subway and bus fares. It's an excellent investment since you can use it for subway networks, metros, buses, and even as lieu of cash in convenience stores and other businesses.
The card has no expiry. You can use it for countless times and only need to recharge it on convenience stores or designated recharging machines. The remaining balance will remain untouched, and you can refund your unused balanced in convenience stores too.
Where to buy?
You can purchase and recharge a T money card at the Incheon airport, CU stores, and convenience stores. There are self-service recharge machines in Seoul metro stations, too.
Note: If you avail the Discover Seoul Pass, you can use it as your T-money card (you'll save 3,000 won because of this)
---
Apps
Navigation apps are important when traveling. If you're thinking of Google maps, hate to break it, but it's not functioning well in South Korea. Try using Naver Maps and Kakao Maps for directions around the metropolis.
We used Google maps for subways and bus stations, BUT it doesn't provide an accurate direction for our inquiries all the time. We used the GPS feature for walking and short-distance navigation.
For subways, we also used Kakao Metro and free subway maps available in Android and iOS.
Google Translate will make your life easy if you're not familiar with Hangul. We used it for restaurant menus and other materials without English translations. Most local restaurants and public places have their menus written in English and they use pictures and signages often.
Note: Don't forget to download the Discover Seoul Pass on your mobile phone.
---
Places to Visit
The following are the famous attractions in Seoul with their nearest subway station.
Gyeongbokgung Palace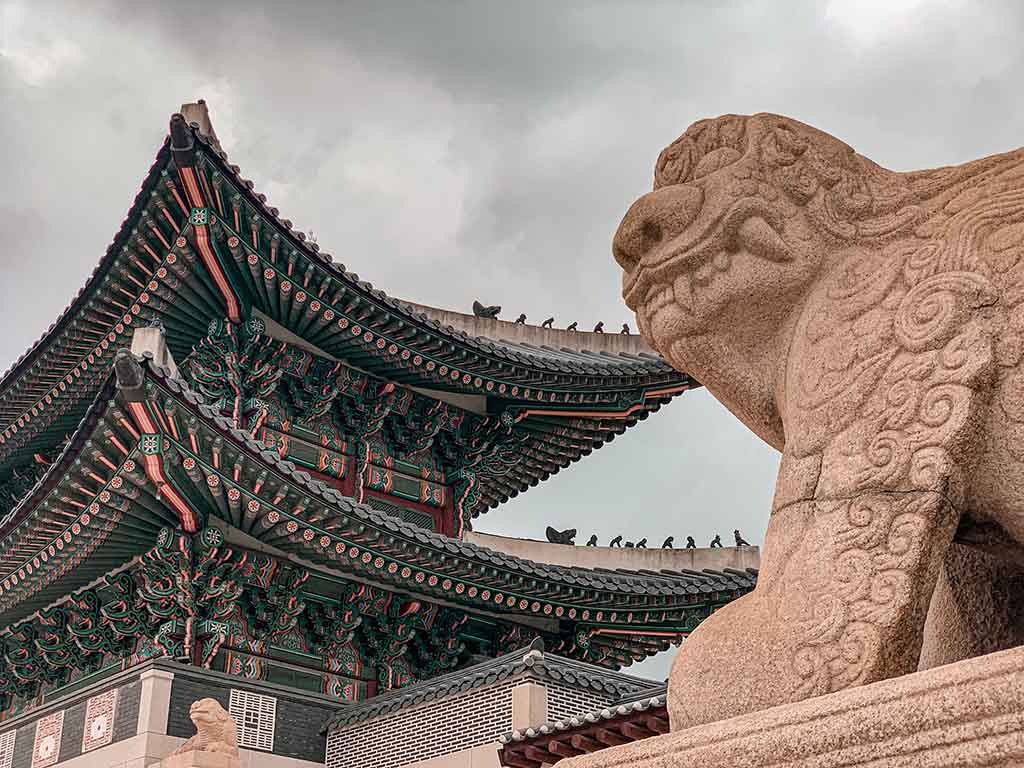 Gyeongbokgung Palace (main palace) is the largest out of the five palaces in Seoul. 
Nearest subway station: Gyeongbokgung Station (subway line 3) exit 5
Note: Palaces and other cultural sites offer free admission if you're wearing a traditional Hanbok.
Changdeokgung Palace
The well-preserved palace served as the favorite residence of many kings during the Joseon dynasty. It's made for recreational use of the royal figures—housing a Huwon or Secret garden that features the natural beauty of Korean gardens back in the old days. I was completely enamored with the architecture, details, and elegance of this place.
Nearest subway station: Jongno 3-ga station, (Line 1, 3 or 5, exit 6)
Dongdaemun Design Plaza
DDP is an epitome of future architecture. The great landmark reveals itself in the heart of Dongdaemun.
Nearest subway station: Seoul Subway Line 2, 4, 5, Exit 1
N Seoul Tower
It is considered as the second-highest point in Seoul where tourists can enjoy a stunning view of the Seoul skyline. And not to forget the Namsan Park (perfect for people who want to unwind.)
Nearest subway station: Myeongdong Station (Seoul Subway Line 4), Exit 3
READ MORE: ALL YOU NEED TO KNOW BEFORE YOU VISIT THE N SEOUL TOWER (NAMSAN TOWER)
---
Day Trips
Nami Island
Nami Island (Namiseom) is well-known for its enchanting features that will surely comfort your wanderlust.
Read more: Nami Island (Naminara Republic) Travel Guide
Petite France
Petite France is a French culture village (theme park) that will let you experience Europe while in the countryside of South Korea. Visit The Little Prince inspired village when you're in Chuncheon and Gangwon Province, or when you're visiting the Nami Island.
READ MORE: PETITE FRANCE IN KOREA TRAVEL GUIDE
Other Attractions
Han River Park
When visiting the Hanggang (Han River), choose the nearest park around your location. There are 11 parks that you can choose from, but the famous one is the Yeouido park. For us, we went to Ttukseom park before visiting the Namsan Seoul Tower.
Nearest subway station: Yeouido Station (Seoul Subway Line 5), Exit 3
Seoul Grand Park
Visit Gyeonggi-do and have fun with the Seoul Skylift and Seoul Zoo.
Nearest subway station: Seoul Grand Park Station (subway line 4) exit 2
READ MORE: SEOUL GRANDPARK: ECOLOGICAL PARK IN GWACHEON CITY, GYEONGGI-DO
Ewha University
Walk around the campus of a famous women's university and discover unique coffee shops nearby.
Nearest subway station: Ewha Women University Station Subway Line 2, exit 3
Running Man Thematic Experience
Let's rejoice, Running Man fans! This place is for you to enjoy a Running Man experience. Let's hope they'll have a surprise visit during your travel.
Nearest subway station: Jonggak Station (Line 1), Exit 3
---
Shopping
Insadong– Perfect for traditional souvenirs, arts, and cheap art pieces.
Myeongdong– Shop til you drop in Myeongdong shopping street.
Dongdaemun and Namdaemun– Wholesales, retails, and many products at an affordable price.
---
Seoul Itinerary
There is no definite way to explore the city. Seoul is widely stretched-out, so it's better to plan your Seoul itinerary by district or neighborhood. It's better to maximize your time by choosing a location with many nearby attractions.
Disclaimer: Ours was so jam-packed (we wanted to make the most out of our trip) and involves LOTS of walking (we love lengthy walks too!)
Tweak and use the alternative activities and itinerary below and match it with your preference or travel style.
Day 1: Han River and Seoul City Skyline
| | |
| --- | --- |
| 7:00 AM | Flight Departure |
| Noon | Arrival at Incheon Airport |
| 3:00 PM | Arrive at Airbnb in Hongdae |
| 4:00 PM | Myeongdong Cathedral |
| 5:00 PM | Han River Park |
| 7:00 PM | Dinner |
| 8:30 PM | N Seoul Tower |
| 1:00 AM | Sleep |
Alternative activity: Itaewon District
Day 2: Seoul Day Trips and Urban Seoul
8:20 AM
Depart from Hongik Univ. Exit 4
9:30 AM
Arrive at Petite France
10:30 AM
Leave for Nami Island
11:00 AM
Arrive at Nami Island
11:00 – 11:40 AM
Lunch
2:30 PM
Leave for Seoul
4:00 PM
Myeongdong Station
4:20 PM
Itaewon District
6:00 PM
Dongdaemun Design Plaza
Migliore Mall
Doota Mall
7:00 PM
Dinner
7:40 PM
Dongdaemun Market
9:00 PM
Cheonggyecheon Stream
11:00 PM
Avenue of Youth
Street food and night exploration
1:00 AM
Sleep
Alternative Itinerary:
8:20 AM
Depart from Hongik Univ. Exit 4
9:30 AM
Arrive at Petite France
10:30 AM
Leave for Nami Island
11:00 AM
Arrive at Nami Island
11:00 – 11:40 AM
Lunch
2:30 PM
Leave for Seoul
4:00 PM
Dongdaemun Culture and History Park
Dongdaemun Design Plaza
Migliore Mall
Doota Mall
7:00 PM
Dinner
7:40 PM
Dongdaemun Market
9:00 PM
Cheonggyecheon Stream
11:00 PM
Sleep
Day 3: Culture, History, and Shopping
9:00 AM
Changdeokgung Palace
Secret Garden
3:30 PM
Local Coffee Shop
4:30 PM
Insadong
6:30 PM
Jonggak Underground Market
7:40 PM
Myeongdong Shopping Street
10:30 PM
Hongdae
1:00 AM
Sleep
Alternative Activity: Bukchon Hanok Village, Gwanghwamun Plaza
We used our Discover Seoul Pass (48 H) for days four and five. We planned to visit museums, Yeouido, and the Gangnam area initially, but we went back to Hongdae earlier because of unforeseen circumstances. Luckily, the Stranger Things Pop-up in Hongdae opened that day and we went there instead. We had a memorable experience and explored the streets of Hongdae til past midnight.
Day 4: Museums and Recreational Experience
| | |
| --- | --- |
| 8:00 AM | Ewha University |
| 10:00 AM | Running Man Thematic Experience |
| 11:30 AM | Lunch |
| 12:00 PM | Sodeamun Prison Hall |
| 3:00 PM | National Museum of Modern and Contemporary Art |
| 4:30 PM | Gyeongbokgung Palace |
| 6:00 PM | Gwanghwamun Plaza |
| 7:00 PM | Myeongdong Shopping Street |
| 1:00 AM | Sleep |
Alternative Activities: Seoul Forest, Starfield Library, SM Coex Museum, Yeouido Park, 63 Building
Day 5: Recreational and Nightlife
9:00 AM
National Museum of Korea
11:00 AM
Seoul Grand Park
Seoul Skylift
Seoul Zoo
Seoul Garden
7:00 PM
Stranger Things Pop-up Hongdae
8:30 PM
Hongdae Street
Korean BBQ experience
Nightlife
2:00 AM
Sleep
Alternative Activities: Seoul Forest and Seoul bike, Gangnam, COEX Aquarium, 63 Building, Lotte World, Everland
Day 6: Last Day
Noon
Checkout
Lunch
1:00 PM
Kakao Cafe
Hongdae Shopping Street
3:00 PM
Depart for Incheon
Depart from Incheon Airport
Arrive at Manila
---
Summary of Expenses
We traveled as a group (6) giving us an edge to spend less on our Airbnb, food, and tickets. This summary applies if you'll follow our itinerary and travel style. This is just to give you an idea of how to budget your money.
*Not included: Flight ticket, food, and pocket money
Airbnb (6 days)–₱3,200 ($65)
Klook & Discover Seoul pass–₱3,795 ($78)
Daytrip to Nami Island and Petite France–₱1, 293
Namsan Seoul Tower–₱241
Hanbok Experience–₱328
Discover Seoul Pass–₱1,933
Secret Garden (Huwon) – Young adults (ages 19-24) ₩5,000 (₱220/$5)
T-money (recharge)–approximately ₩30,000 (₱1,320/$28)
TOTAL: ₱8,535 ($175)
*₩60,000 is my maximum budget per day, BUT it's way too much for me.
Last Reminders
Try to limit your food expenses by eating street foods and eating like a local. We only spend money on food thrice to experience Korean cuisines, but overall, we rely on hawkers, small local restaurants, and convenience store goodies.
Bring an adapter. South Korea has Type C and F power plugs and sockets with 220 V standard voltage.
It's better to visit the attractions close to each other. The urban city is so large, and you'll spend more time traveling from one place to another instead of enjoying the locations if not planned accordingly.
Take advantage of Seoul's walkability. Explore the streets and night markets.
Interact with the locals and ask them for recommendations.
Be a responsible traveler and respect their culture. Be aware of their customs and avoid taboos.
Make the most out of your trip! Treat yourself with a memorable experience and enjoy South Korea.
Don't forget to cross-check the information to their official websites.
Conclusion
There's no perfect way to visit South Korea. This Seoul itinerary and travel guide have in-depth general information regarding Seoul to help you plan that suits your style.
Are you planning your trip to Seoul, South Korea? I hope this will answer your questions and eliminates your concerns. If you have any suggestions or things I missed including here, comment below. I look forward to your travel stories soon!
Enjoyed reading? Subscribe to my newsletter for updates and more travel content. See you in my next post about Seoul!
RELATED ARTICLES:
JONGNO DISTRICT
DISTRICTS OF SEOUL: JONGNO-GU AS THE HEART OF SEOUL
MUST-VISIT CULTURAL LANDMARKS IN JONGNO-GU (PART 2)
MUST-VISIT SITES AND POINTS OF INTERESTS IN JONGNO-GU (PART 3)
11 BEST THINGS TO DO IN JONGNO-GU, SEOUL, SOUTH KOREA
JUNG DISTRICT
DISTRICTS OF SEOUL: JUNG DISTRICT (MYEONGDONG) IN CENTRAL SEOUL
ALL THINGS YOU NEED TO KNOW BEFORE YOU VISIT THE N SEOUL TOWER
55 responses to "5 Days South Korea: Complete Travel Guide & Seoul Itinerary"