30 Jan 2021
Posted by Mikaela
This post may contain affiliate links. If you go through them and make a purchase, I may earn a penny. Don't worry, it won't cost you any extra, but will surely light up our travel journey!
Are you looking for things to do in Hongdae? Hongdae is one of the best areas to explore in Seoul for plenty of reasons. This area is very accommodating to the younger age demographic, known for trends, underground culture, art murals, street performance, and more.
It's also a great neighborhood to stay in around Seoul, especially for the young at heart!
Now, let's talk about the unique vibe that Hongdae offers that made this place rank as one of the coolest neighborhoods in the world.
SEOUL TRAVEL ESSENTIALS
DISCOVER SEOUL PASS
Avail the Discover Seoul Pass to get access to hundreds of attractions and discounts! This will make your trip more convenient—fast and hassle free. You can also use it as a T-money card for transportation. Don't forget to download the Seoul Pass app to monitor your promo.

T-MONEY CARD (for transportation)
T-money is a smart card device that enables you to pay transportation fares in and around Seoul and other nearby areas. You can also use this as a credit card or substitute for cash transactions in convenience stores and shops. Download the T-balance Check app to monitor your card balance.

SIM CARD AND PUBLIC WI-FI
Buy an international sim card before you arrive in Seoul. You can avail data caps depending on your usage to stay connected. In case you need a backup, Seoul's public wi-fi is always available and fast, too!

TRAVEL APPS
Download some navigation apps such as Kakao Map and Naver Map to get accurate directions and traffic updates. For offline use, you may opt to use the Korea Tour Map app.

Hongdae in Seoul
Hongdae is in Mapo District (Mapo-gu), near the Hongik University. It is widely known as a place for self-expression, art, nightlife, trend culture, and indie music. It is said that the art students of Hongik University shaped and influenced the neighborhood as what it is today.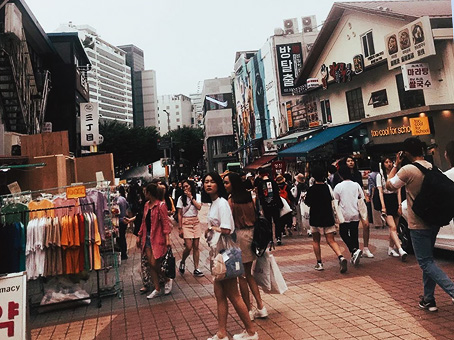 Everything you can see in Hongdae, such as clubs, local shops, entertainment, plaza, and other establishments are designed for young people. Hence, it is full of fun activities that won't hurt your wallet.
Things To Do in Hongdae
1. Walk around the Hongik University
First on our list of things to do in Hongdae is walking around the Hongik University. The university is known for its prestigious title as one of the best fine arts school in South Korea. You can spend a day wandering around the campus and get inspired by many talented young artists and performers.
Location: 94 Wausan-ro, Sangsu-dong, Mapo-gu, Seoul
2. Support Local Brands and Artists
As the streets of Hongdae encourage self-expression, many aspiring artists established their clothing lines, galleries, and shops where you could get a signature design. Not to mention, it is another cultural activity that will give you an in-depth grasp of the area, especially if you are an art enthusiast. You can explore the Hongdae Walking Street, Hongdae Mural Street, and Hongdae Free Market for this activity.
3. Sing your heart out in a Noraebang
Noraebang is a Korean-style karaoke room. You can find many noraebangs around Hongdae, and it is worth to try even if you are alone or with large group. This is a crowd's favorite where you can sing at the top of your lungs and speak out your emotions through a song. Just like any other karaoke bars, this activity is a must!
4. Explore the Hongdae Mural Street (Picasso's Street)
Hongdae Mural Street is an iconic landmark in Mapo District. They also call it Picasso's street, pertaining to the painted walls that brighten the neighborhood. Many featured works of rising artists are here for you to admire all day long.
5. Party at Hongdae
Alright, party people, it's time for you to lead the way! In Hongdae, many students and young tourists opt to experience the nightlife culture. It is one of the major reasons Hongdae is the center of youth. This is also a time to witness how the locals have fun with their peers and meet people.
6. Let the illusion do its work in Trick Eye Museum
Trick Eye Museum is a popular tourist spot in Hongdae and Mapo District. Here, you can have the wildest photos with its wide selection of artworks. Trick Eye derived from the word Trompe-l'oeil—an art technique that makes 2D paintings into 3D. It is a very interactive way of appreciating art if you want to deviate yourself from the traditional one. You can avail your Trick Eye Museum tickets in advance here to save and avoid hassles.
7. Appreciate art in different forms
At this point, you can see the stature of art culture, fashion trends, and indie music in Hongdae. Going to Hongdae will give you an eye for the things that make us feel alive: art, in whatever form it may be.
8. Hongdae Shopping Street
Hongdae is also popular for its shopping street that offers trendy clothes, socks, beauty products and more! The neighborhood is always full of people and many shopping places are around the Hongdae Business District (near Exit 9). Expect a lot of windowshopping and unexpected purchase because of great sales and up for grab items.
9. Get caffeinated at local coffee shops and themed cafes
I'm not exaggerating when I say that Korea's coffee game is strong. Thanks to the thriving local coffee shops, the streets have unique coffee experiences and aesthetics. Another thing is that you can visit themed cafes such as One Piece, Meerkat café, and Kakao Friends café to relax.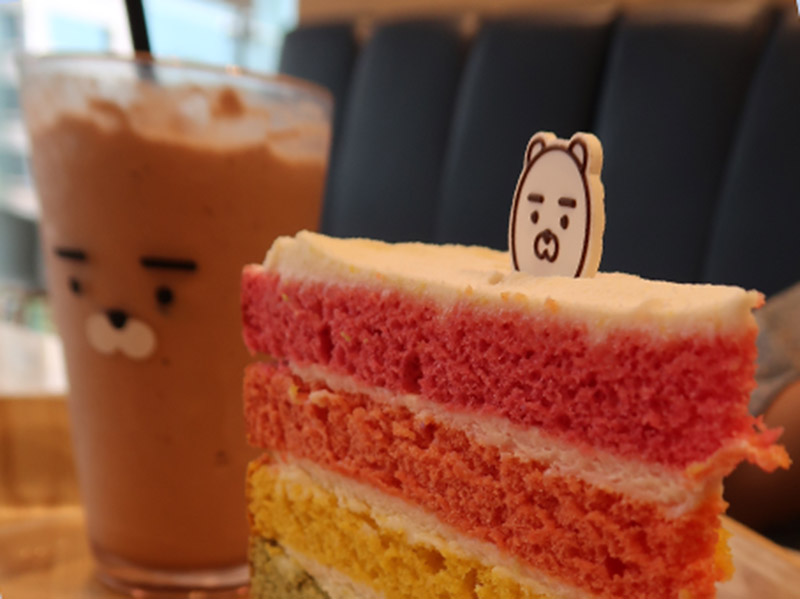 10. Unleash the gamer in you at arcades
Spending your time in gaming arcades is a cool activity during your visit. From retro games, VR technology, and arcade games that will make you burn some calories, you can find it in Hongdae. If you're feeling competitive, you can beat the top scores and grab a snack after.
11. Score some stuff with claw machines
We usually see claw machines inside an arcade center, but that's not the case in Hongdae. Because of popularity among university students, you will meet several claw machines placed side-by-side in storefronts all over Hongdae. The thrilling sensation and anticipation are so addictive. Plus, there are many machines to choose from, containing several reward items. A win-win situation!
12. Eat different street foods
Aside from shopping, being active, and doing quirky things around Hongdae, you must try eating their street foods and dining at their local restaurants. The prices are relatively cheap thanks to the student-friendly cost of living around the area.
13. Enjoy the performance of local artists
Music performance, dance routines, or any talent showcase can be enjoyed here. Many young artists are promoting on a small stage carved in the Music performance, dance routines, or any talent showcase are here for you. Many young artists are promoting on a small stage carved in the streets of Hongdae. From original songs, dance covers, showdowns, and events, you will feel the height of Korean entertainment industry. You can continue supporting them by following their social networking sites such as Instagram, sound cloud, and YouTube.
14. Spot one-of-a-kind items in Hongdae Free Market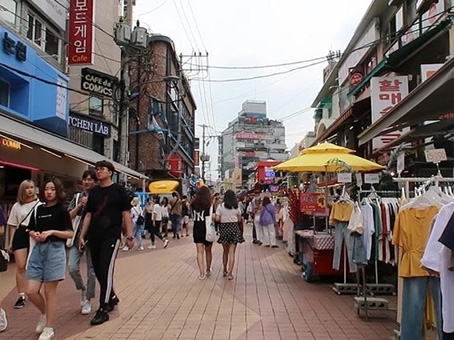 Hongdae Free Market (flea market near the Hongdae Playground) is the best place to look for odd souvenirs, artworks, and gift items. Many artists sell their handmade crafts and other local-made goods here.
15. Have a chill day around Hongdae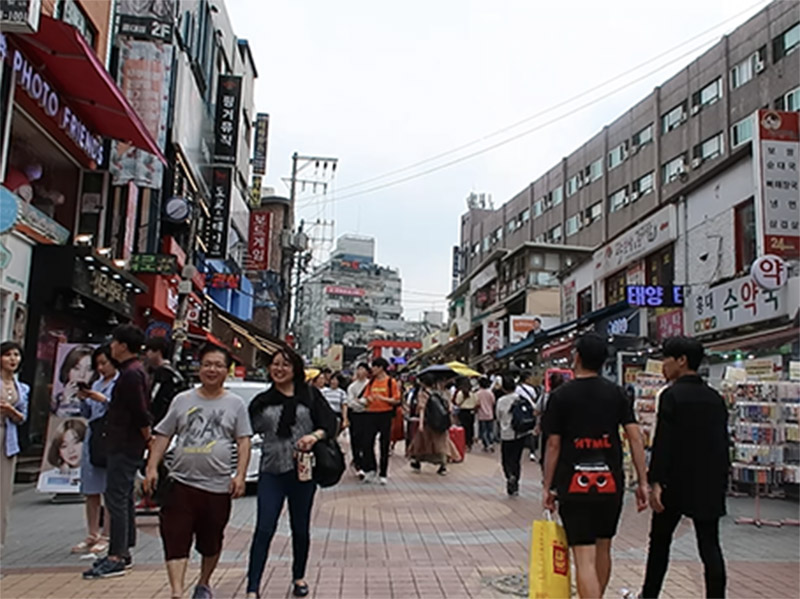 A delightful way to cap off your trip is to have a chill day in Hongdae. Just wandering out and about the neighborhood will give you an authentic travel experience that you can only get by appreciating the street as it is.
Final Thoughts about Hongdae
Hongdae is an amazing neighborhood to visit that will give you a unique and youthful vibe. As a low-maintenance traveler, I can vouch that including this in your itinerary will give you an incredible travel experience. What is your favorite among the things to do in Hongdae?
Subscribe to my newsletter to get updates and exclusive contents!
READ MORE:
5 DAYS IN KOREA: A COMPLETE TRAVEL GUIDE AND SEOUL ITINERARY
WHERE TO STAY IN SEOUL? 5 BEST NEIGHBORHOODS FOR FIRST-TIMERS
22 FREE THINGS TO DO IN SEOUL, SOUTH KOREA
NAMI ISLAND (NAMINARA REPUBLIC) TRAVEL GUIDE
4 responses to "15 Youthful Things To Do In Hongdae Seoul"