10 Oct 2020
Posted by Mikaela
Welcome to the third post of our ongoing series: Districts of Seoul featuring the points of interest in Jongno-gu, Seoul, South Korea. For the past two weeks, we've been going over several landmarks while focusing on the cultural and traditional aspects of Korea. Now, we are down to the last set of must-visit landmarks in Jongno-gu in which we will focus on the other side of the area—downtown Seoul.
We have talked about lots of things about Jongno-gu, but I want to emphasize that there's something more about this neighborhood that makes it unique and worth visiting. Let's delve in!
Part 3: Points of Interest in Jongno-gu (downtown Seoul)
Cheonggyecheon Stream and Plaza
If you only have limited time in Jongno-gu, make the Cheonggyecheon Stream be part of your quick trip. This 11 km 'healing stream' stretches from the Gwanghwamun Station and passes through 22 bridges and several nearby attractions. The recreational space is perfect for a long stroll to admire the downtown Seoul while getting in touch with nature. Although the recreational project focused on the stream's industrialized design, this didn't affect its purpose to give space and relaxation for the people.
Jongno Tower
The Jongno Tower (directly translated to bell street) is an iconic landmark that shows the modern architecture of Seoul. Like its history, the tower has a bell that is ringing for 33 times during the new year. Similarly, they rang the bell tower the same way during the Joseon Dynasty. You can get a pleasant view of the sunset and the city from this building.
Jonggak: Avenue of Youth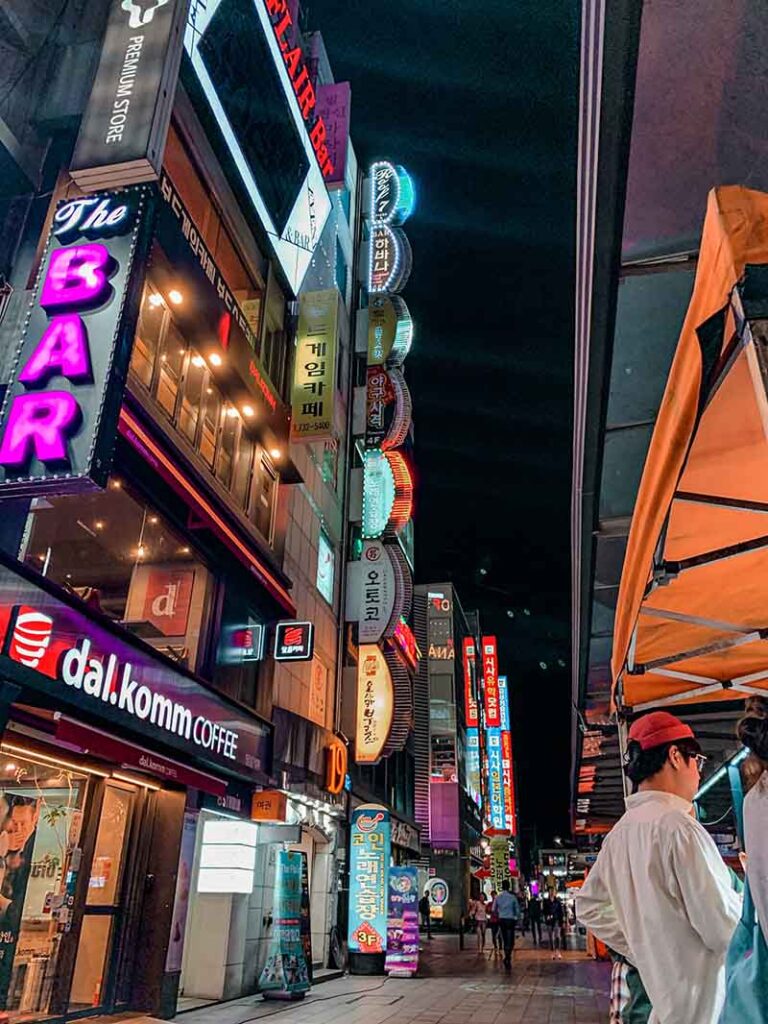 After a pleasant stroll from Cheonggyecheon, drop by the Avenue of Youth where you can let loose and have a good night experience. This area has many establishments such as pubs, restaurants, and street food stalls that you can indulge with. In general, the area gives off a good atmosphere for night explorations, late-night snacking, and nightlife.
Insadong
Insadong is a lively traditional neighborhood visited by tourists and locals because of its good ambiance. The Insadong main street has a long line of modern art galleries, antique shops, tea places, restaurants, and street food stalls in every nook and alley of the area. You can also find the Ssamziegil—a four-story shopping complex in Insadong, famous for its unique offers ranging from handicrafts, traditional souvenir items, and modern Korean style. I find Insadong a quiet place for people watching and a delightful side trip to top off the other cultural and traditional attractions. No doubt it is one point of pride in Jongno-gu when it comes to tourism.
Some nearby attractions you can include in your itinerary are the Running man Thematic Experience and the Alive Museum.
Don't forget to bring your wallet, as you will find many cheap souvenir ideas here.
Jogyesa Temple
Still, near the Insadong area, you can find a beautiful Buddhist temple in downtown Seoul. Unlike other temples found in the mountains or remote areas for peace and quiet, Jogyesa temple lies in a convenient and very accessible place in the middle of the city. Regardless, you can pay tribute or learn about Buddhism. Some activities you can experience here are the Lotus Lantern Festival and temple stays for a refreshing experience.
Gwangjang Market
Gwangjang Market is a specialized market in Jongno-gu and among the largest traditional market in Korea. Aside from its famous high-quality silk, fabrics, and handmade items, it is a haven for Korean food. This makes it an ideal place to know more about Korean food culture and local life.
In Conclusion
Exploring the Jongno District will allow you to experience both urban and traditional side of Korea. The neighborhood is ideal for first-time visitors as there are many points of interest in Jongno-gu. As a recap, here are the 21 iconic landmarks, cultural sites, and must-visit attractions in Jongno-gu.
Samcheongdong-gil Road, Bukchon Hanok Village, Gyeongbokgung Palace (Gwanghwamun Gate, National Folk Museum, National Palace Museum), Gwanghwamun Square, Tongin Market
Changdeokgung Palace, Secret Garden, Changgyeonggung Palace, Jongmyo Shrine, Ikseondong Hanok Village
Cheonggyecheon Stream and Plaza, Insadong (Ssamziegil, Runningman Thematic Experience, Alive Museum), Jogyesa Temple, and Gwangjang Market.
What do you think about the Jongno District? Will you include it in your next visit to Seoul?
---
Up Next on my blog series:
Districts of Seoul: Jung-gu, Yongsan-gu, Seodaemun-gu, and more.
Subscribe to my newsletter for updates and travel related contents!
Read more about South Korea:
Must-Visit Sites and Cultural Landmarks in Jongno-gu (Part 2)
Districts of Seoul: Jongno-gu as the Heart of Seoul (Part 1)
22 Free Things To Do in Seoul, South Korea
Where to Stay in Seoul? 5 Best Neighborhoods for First-time Visitors
9 Museums in Seoul for Art, Culture and History
Seoul Itinerary: Complete Travel Guide of a Low Maintenance Traveler
4 responses to "Must-Visit Sites and Points of Interest in Jongno-gu, Seoul (Part 3)"