5 May 2020
Posted by Mikaela
Corregidor Island tour is a fun way to immerse yourself in Philippine history. The island a.k.a the rock , is one of the places I wish everyone could see at least once in their lifetime; especially, my fellow Filipino travelers. Today, I'll be sharing my experience with you through photographs and memories. Please do note that the following pictures were taken back in 2013 (14 year old me). Please be aware of some unfocused shots and bad angles (I tried).
The Corregidor Island
The Island of Corregidor was a strategic base of the military as early as the Spanish colonization in the Philippines. The little island is located at the entrance of Manila Bay, making it the ideal location to set up a checkpoint for registration of ships and commercial trades. The Spaniards named it Corregidor, coming from the word corregir 'to correct' in English.
Although it was of great use to the Spanish government, its crucial role in our history started in 1898 when the American government colonized the Philippines until the Japanese invasion happened.
Located at the southern coast of Bataan and part of Cavite province, the tadpole-shaped island remained as a silent remnant of our tragic past. With its rich history and scenic view, the island has a lot to offer. From historical tours, night explorations, and fun activities, a truly wonderful destination waiting for us to discover.
How to get there?
To visit Corregidor island, you need to book a tour package. The Sun Cruises offers the in-out ferry transportation and the guided tours and activities on the said island. They started back in 1988 as a ferry service and expanded to provide high quality and reliable tour experiences to both locals and foreigners who visit Corregidor.
They have a variety of tour packages that you can choose from:
Corregidor Historical Tram Tour (Weekday and Weekend)
Bike Corregidor Package
Corregidor Adventure/ Team building (The Rock Challenge)
Overnight Packages (book a room in Corregidor Inn)
(You can check their website for updated promos and packages here.)
For those who are planning to take the day tour, this is the schedule:
6:30 AM Check-in at Esplanade Seaside Terminal
7:00 AM Boarding
7:30 AM ETD Manila
9:00 AM ETA Corregidor Island
2:30 PM ETD Corregidor Island
4:00 PM ETA Manila
Note: They follow a strict schedule. Please make sure you are checked in one hour before departure. You won't be allowed to board the ferry if you're late.
Transportation:
➡By private vehicle
Take Roxas Blvd South Bound
Take the exit towards Buendia/ Sen. Gil Puyat Avenue
Continue on J.W. Diokno Blvd
Turn right to seaside Terminal Esplanade Seaside Terminal (EST) will be on the right side
By public transportation
➡From South
Ride LRT 1 from Baclaran to Buendia/ Sen. Gil Puyat Avenue
Ride Multi cab going to SM MOA
Get off when you reach One Esplanade
Walk going to Esplanade Seaside Terminal (EST)
➡From North
Ride LRT 1 from Roosevelt, Balintawak or Monumento to Buendia/ Sen. Gil Puyat Avenue
Ride Multi cab going to SM MOA
Get off when you reach One Esplanade
Walk going to Esplanade Seaside Terminal (EST)
Corregidor Island Tour and Experiences
If you're looking for a quick getaway near Manila, I recommend exploring the Corregidor Island. This historical site deserves to be known by locals and foreigners for a better understanding of the efforts of Filipinos and Americans who fought for independence.
From what I can remember, the name of our tour guide is Kuya Ed. He's an incredible guide that explained the history in a fun way.
Luckily, I was able to visit this island back in 2013 during our school field trip. We spent two days and a night on our historical tour, activities, and free time.
After you arrive at the North Dock, you'll start your tram tour around the island. The tour guide will elaborate on the history and day-to-day stories of how the Filipinos, Americans, and Japanese lived in Corregidor. You'll be able to see a variety of structures built on the island (for the people who lived there). Some are the following:
Lorcha Dock
Malinta Tunnel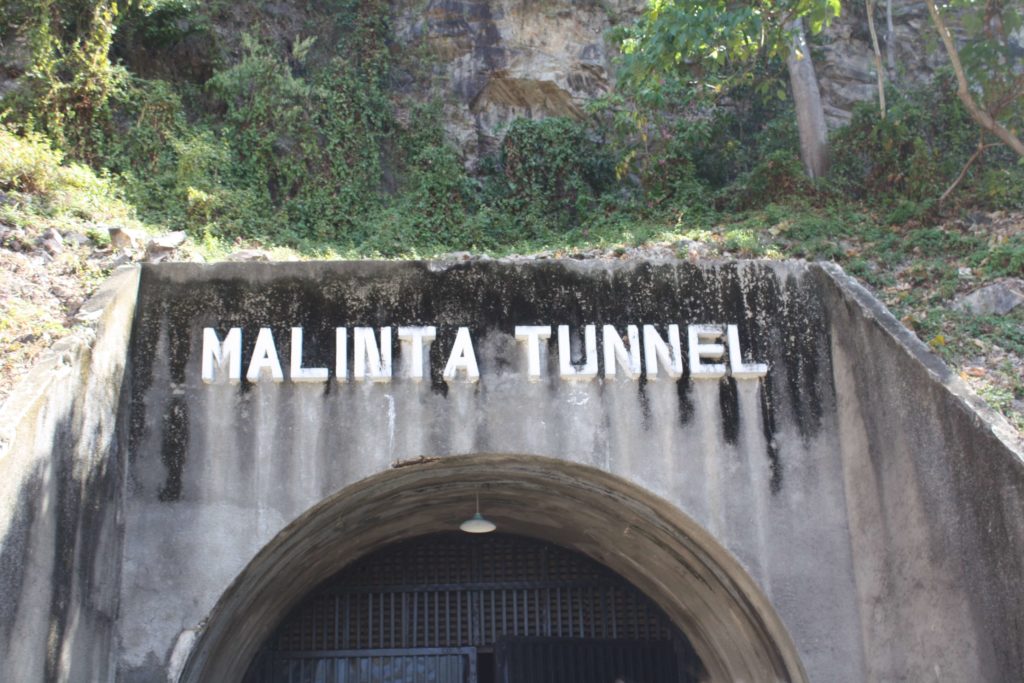 We walked through the main tunnel and enjoyed a show that depicts important events that happened inside.
Mile-long barracks and middle-side barracks, an army hospital, Cine Corregidor, YMCA building, school, US Navy radio intercept tunnel
Spanish Lighthouse
Battery way, Grubbs and Hearn
Pacific War Memorial and Museum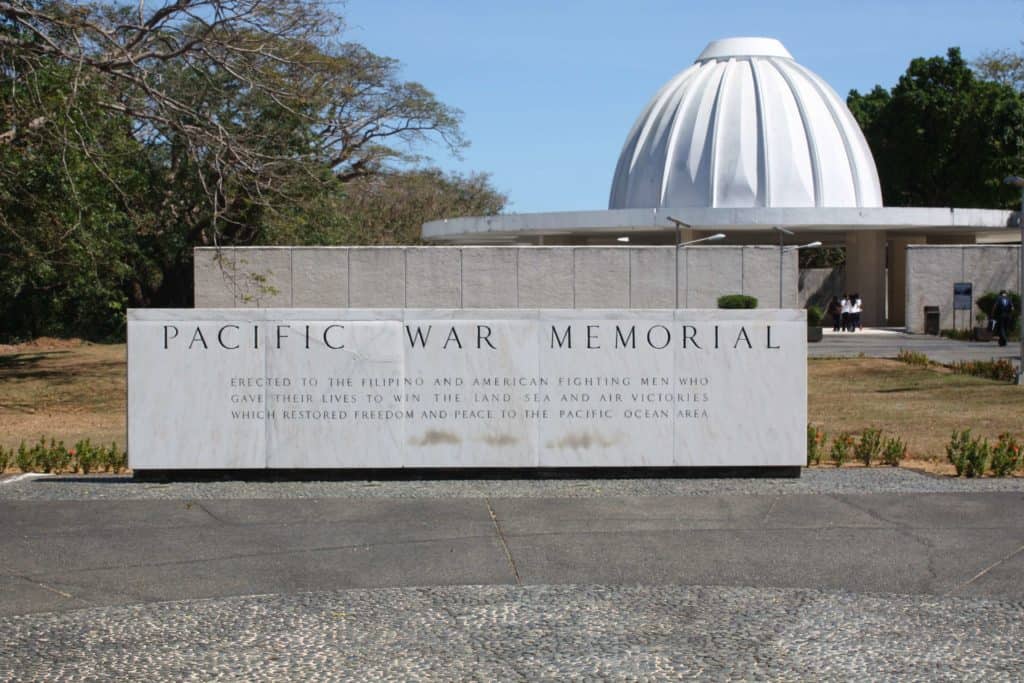 Filipino Heroes Memorial and Eternal Flame of Freedom
Japanese Garden of Peace
Scenic View
I was truly amazed by the amount of beautiful scenery in Corregidor as we proceed with the tour. They gave us enough time to do sightseeing and walk on the nearby premises of each station.
Sunset and Sunrise in Corregidor Island
Before the day ends, we get to see the scenic view of the island. We waited for the sun to set in Manila Bay with the view of the tail-end of Corregidor.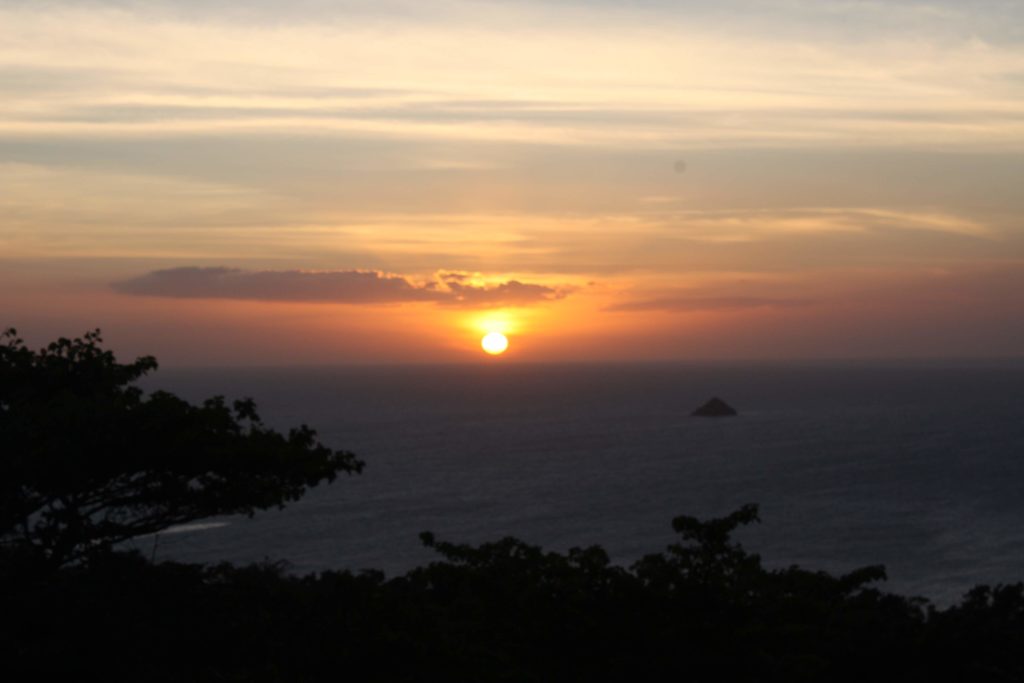 The next day, we woke up early to witness the sunrise and head for a hike in the forest. This is one of the memorable activities we've experienced as we were challenged to hike with our sleepy heads early in the morning.
Night Lateral Tour
After appreciating the relaxing view of the sunset, we head back to the Malinta tunnel for the night lateral tour. For this part, we were asked to put a helmet and a flashlight. I can remember this as a thrilling experience for high school students because some were scared that they'll encounter a ghost along the way. We entered the off-limits part of the tunnel (for day tour) without any light source. I enjoyed this part because I felt the struggle of those who have no choice but to stay inside the tunnel during the war.
Activities
There are plenty of activities that you can try on the island such as zip lining, biking, hiking trails, swimming (pool and beach), bird watching, camping, fishing, kayaking, and more!
My friends and I personally experienced hiking, jogging, swimming (pool and beach), and zip lining. We had lots of fun and memories thanks to Corregidor Island and Sun Cruises for preparing a fun experience for everyone.
Accomodation
Want to stay longer on the island? Corregidor Inn is waiting for you. This is the hotel on the premises of Corregidor. They serve guests accordingly and have wonderful facilities to ease your needs and boredom (which I doubt you'll experience on the island).
You can choose from having a twin, deluxe or premier room. Our stay in this hotel is satisfactory. They provide our needs and respond to our requests right away.
Just in case you're planning for a trip and/or you haven't read my Ultimate Travel Essentials Guide, why don't you click on the link and learn more about packing. It's good to learn something new, right? There's a free detailed checklist inside that is very helpful when packing.
Conclusion
Corregidor is a MUST visit historical destination for everyone. And, as a low maintenance person, I recommend including this in your bucket list. The Corregidor Island tour is highly engaging, full of learning and experienced-focused. It's a simple getaway if you want to escape the city life over the weekend or even if you only have a few hours to spare.
Enjoyed reading? Tell me your thoughts in the comment section! If you want to read more, you can always subscribe to my newsletter or connect with my social media accounts.
13 responses to "Corregidor Island Tour: Exploring the Remnants of War"